October 30, 2019 @ 12:09 PM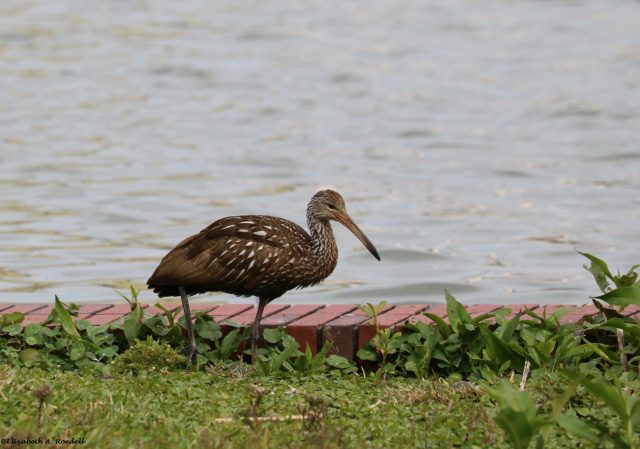 Limpkin
January 2019
After flying into Orlando on Saturday, before beginning the tour, I rented a car and drove across the state to the East Coast to Titusville for the 22nd Annual Space Coast Birding and Wildlife Festival, before checking into my hotel. Energized with meeting so many new like-minded birding enthusiasts, sharing stories, and visiting environmental organization's crafted tables and vendors promoting an array of wildlife material had me psyched. Unfortunately, the weather didn't cooperate and the birding tours I signed up for the following day were cancelled.
In torrential rain I drove back to Orlando Airport on Sunday to return the rental car and then checked into the hotel in Orlando where I planned to meet up with the tour. At the Cork and Fork Restaurant orientation, and reunion with the tour leader Alex, it turned out to be just the two of us. I wondered how Alex intended to top the fantastic trip we had the previous Spring as we chased birds along the Rio Grande Valley.
Our agenda included a tour of Central and South Florida, traveling north first to Clear Water before heading south again along the Atlantic Ocean to the East and then crossing the State to the West Coast driving north along the Gulf of Mexico, on the lookout for the 360 species of birds recorded in Florida.
The first day driving east towards Melbourne we were wowed by a flock of about 10,000 Tree Swallows to kick off the tour. Arriving at the Ritch Grissom Memorial Wetlands at Viera, a water reclamation facility consisting of 200 acres, in Brevard County, on a very cold and windy overcast morning, the Purple Gallinule became my first Life bird of the trip. Despite the inclement weather, we succeeded in observing 57 bird species, including Glossy Ibis and Crested Caracara.
Wood Stork
Walking the trails of the 140-acre Helen and Allan Cruickshank Sanctuary, also in Brevard County, our target bird, not surprising, happened to be the Florida Scrub Jay. It is the only species of bird endemic to Florida found just in Florida scrub habitat that exists exclusively in Central Florida in limited areas along the Atlantic Coast. The Florida Scrub Jay is classified as threatened under the Endangered Species Act. More than one very social jay flitted in and out of the shrubs as we savored the moment of this Life bird for me. Atop a tall dead tree a Great Horned Owl sat on an over-sized nest undisturbed by our presence, as he appeared to be napping.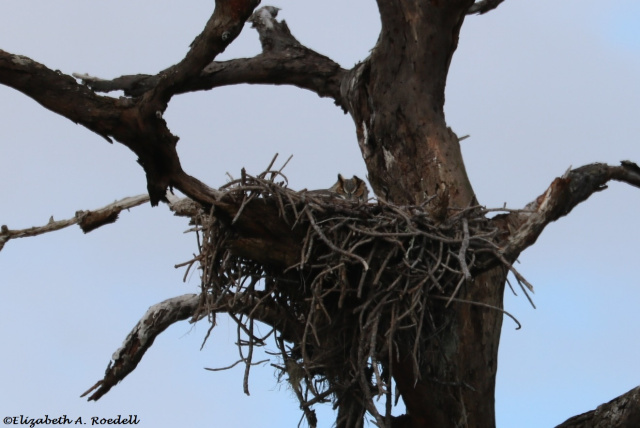 Florida Scrub Jay and Great Horned Owl
We stopped briefly at the Bennett Causeway/Banana River Bridge to see the continuing immature male and female Common Eiders under the bridge, as Bottlenose Dolphin bobbed close to shore.
Common Eider
Laughing Gull
The Rodney S. Ketcham Park in Port Canaveral offered a stunning view of the harbor where a total of 26 species, including terns, gulls and pelicans, appeared over the water in the distance.
Parrish Park, adjacent to Kennedy Space Station, was flush with shore birds, notably 6000 Lesser Scaups, Black Skimmer and a Loggerhead Shrike.
Located on Merritt Island, Florida's largest island and home to the Kennedy Space Center, Merritt Island National Wildlife Refuge, a 140,000-acre nature sanctuary with varied habitat is a major attraction for bird lovers. Western Willet, Greater and Lesser Yellowlegs, Belted Kingfisher, Peregrine Falcon, Common Ground Dove, and Green Heron were just a few of the species that came into view. The Green Heron is about a third of the size of its larger cousin, the Great Blue Heron, and its forest-green color and chestnut colored neck provide camouflage foraging among trees and shrubs as he is known to lure fish with bait by dropping objects into the water.
White Pelican
We were on a mission driving toward Volusia County to see the immature Kumlieni Iceland Gull at Frank Rendon Park in Daytona. The Kumlieni Iceland Gull breeds in the Artic and migrates south in the winter, but rarely as far as Florida. Persistent we braved the cold and wind walking along the beach during high tide. Scanning the flock of over 10,000 Laughing Gulls, Ring-billed Gulls, Herring Gulls and Royal Terns, with Ruddy Turnstone running along the Atlantic beach among the gulls, the rare chunky white-winged gull stood out among all the other gulls, a third Life bird.
Iceland Gull (kumlieni); Laughing, Ring-billed and Herring Gulls
A rewind of the first day's 90 species during dinner at Los Compadres Restaurant remained the topic conversation. Overnight in DeLand greeted us welcoming after a long day.
Starting early Tuesday morning for our destination in Clear Water, north of Orlando, Ocala National Forest, in Lake County, holds stands of longleaf pines on sandy hills and inland scrub. It is the southernmost national forest in the United States, covering over 600 square miles. We spent over three hours surrounded by herds of deer and flocks of birds singing and calling in the quietness of the forest as we walked two miles out on the trails. Both the Red-headed Woodpecker and Red-cockaded Woodpecker, seen pecking away at tree bark, were Life birds. A repeated soft call of the secretive Bachman's Sparrow allowed us to finally zone in on him and take photos - another Life bird. The Southeastern Kestrel, a non-migratory bird, and listed as threatened in Florida, was spotted high in the canopy. Pileated Woodpecker, Carolina Wren, Carolina Chickadee and Brown-headed Nuthatch called out in the forest.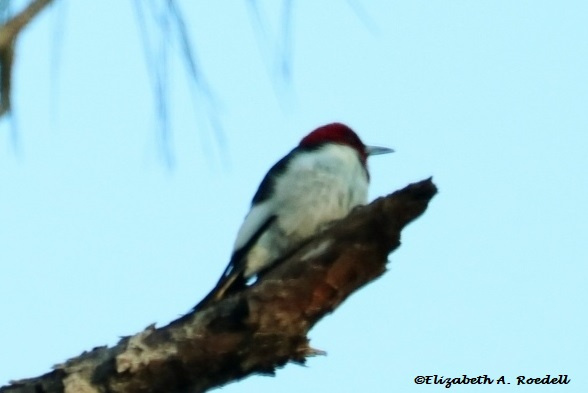 Red-headed Woodpecker American Kestrel (Southeastern) Red-cockaded Woodpecker
Lake Tohopekaliga-Kissimmee Lakefront Park in Osceola County is one of a chain of lakes at the headwaters of the Everglades. The Muscovy Duck, an established feral duck found there, was another Life bird.
Snowy Egret and Female Boat-tailed Grackle
Driving back and forth along the road, we searched in vain at the Double C Bar Ranch in Osceola County for the resident Whooping Crane who lives in Florida year-round, but he could not be found. Whopping Cranes once filled the skies as they migrated to Florida from Wisconsin are now an endangered species. Disappointed we made our retreat.
Joe Overstreet Road and Landing hotspot, Osceola County, had us on high alert as we drove down a 5.5 dirt road, boarded on each side by cattle ranches, and ended at a public boat launch on the northeastern edge of Lake Kissimmee in a rural setting. Among the 46 species of birds there were Pied-billed Grebe, Foster's Tern, Bald Eagle, Snail Kite and more.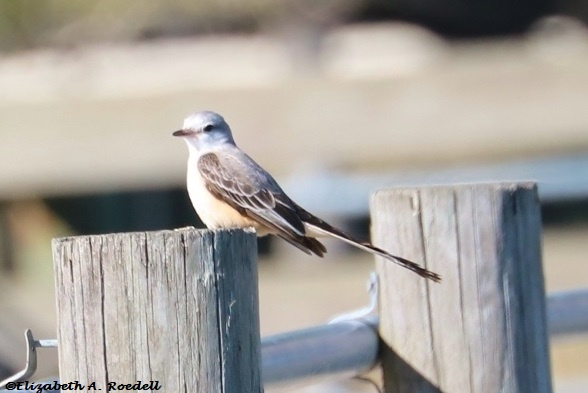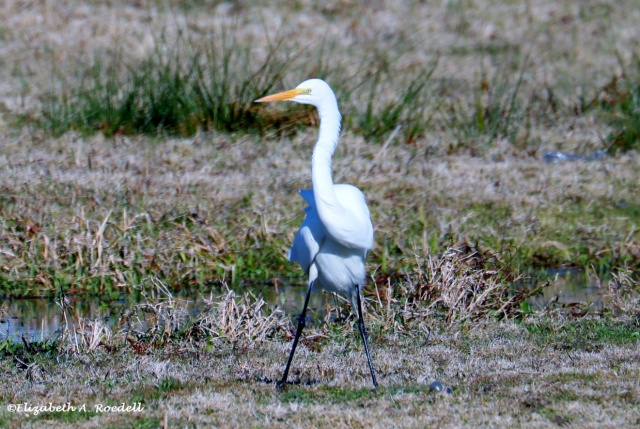 Scissor-tailed Flycatcher, Palm Warbler (Western), White Ibis, Cattle Egret.
The Snail Kite has a limited range in the United States and, as its name implies, feeds on snails. Soaring overhead in search of a meal this remarkable raptor with his long broad winds, a short tail, orange feet and on the base of his bill, displayed a sharp hooked bill.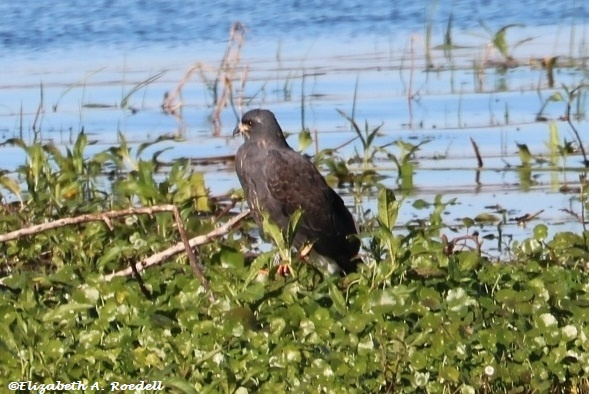 Snail Kite
Another great day of birding with 87 bird species ended with dinner at the Old Key Lime House in Lantana.
Our first stop of the day on Wednesday took us to a shopping mall parking lot in Boynton Beach, Palm Beach County, to see a very cool amusing bird that sings like a Mockingbird and walks like a duck and is frequently seen there – Common Myna - a life bird. Three Common Mynas, native to southern Asia and introduced into the United States for pest control, entertained us by gregariously jumping in and out of the shrubs and between the cars. Like paparazzi we tailed these birds who made it extremely easy to photograph.
Common Myna
It was a sunny warm day as we made our way to Wakadahatchee Wetlands in Delray Beach, Palm Beach County, covering 50 acres, with a three-quarter mile boardwalk crossing between pond and marsh areas with island habitats to foster nesting and roosting. Iguana, alligators, Marsh Rabbits and Eastern Gray Squirrels make their home among the birds. Unbelievably an incredible paradise with so many birds at a single location played as a daydream. We searched for the Neotropic Cormorant and were rewarded when discovered preening close by – a Life bird. I counted the Gray-headed Swamphen as another Life bird.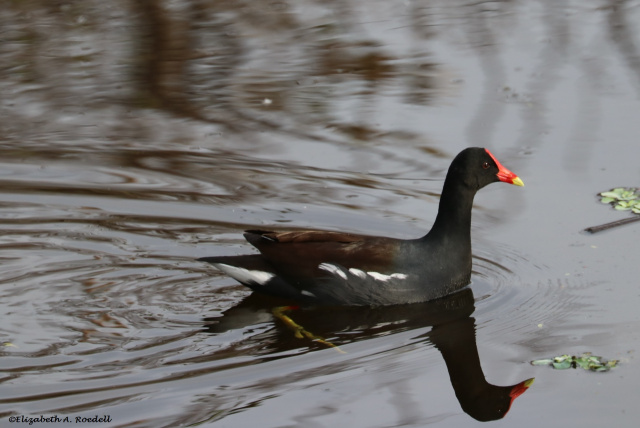 Common Gallanule and Anhinga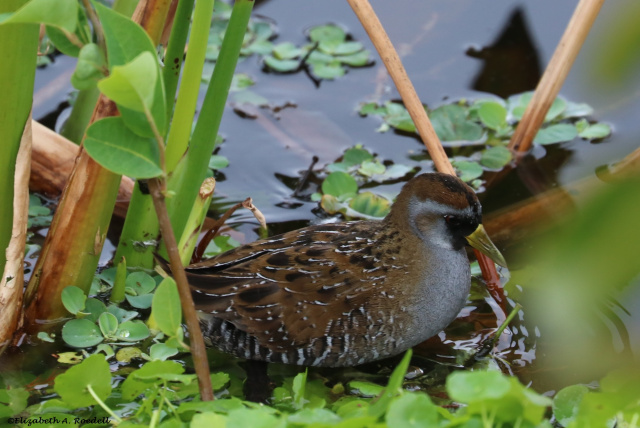 Sora, Tri-colored Heron, Neotropic Cormorant
Blue-gray Gnatcatcher, American Bittern, Gray-headed Swamphen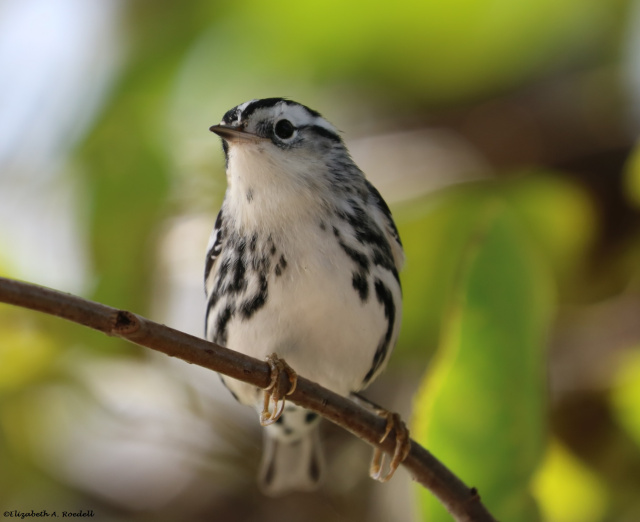 Black and White Warbler and Pine Warbler
We stopped briefly for lunch at Nino's in Delray Beach before driving the short distance to Green Cay Wetlands and Nature Center, Boynton Beach, Palm Beach County, overlooking 100 acres of wetlands, with 1.5 miles of elevated boardwalk passing through various habitats. Basiliscus Lizard, Florida Red-spotted Cooter, Monarch and Zebra butterflies complimented the 51 bird species we observed at this popular stop.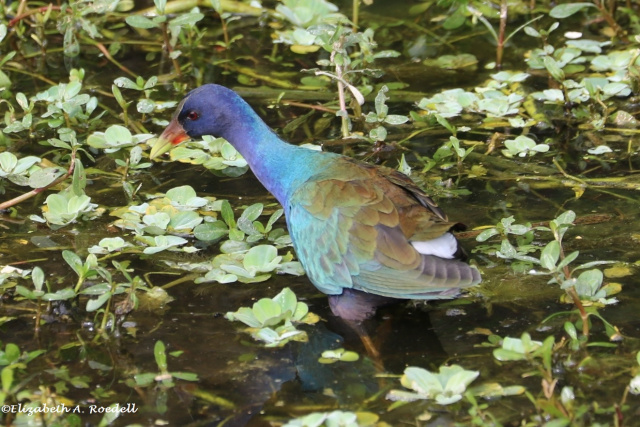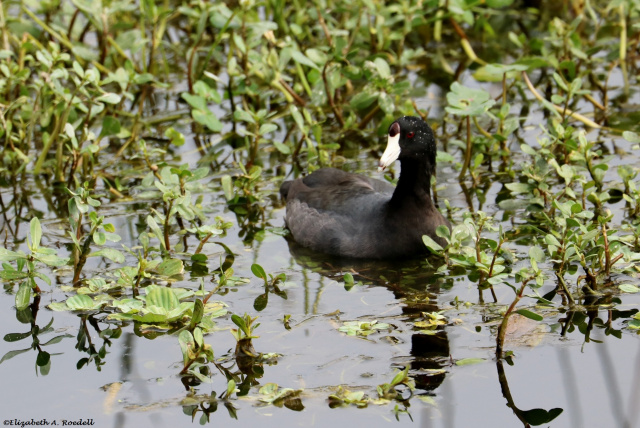 Ovenbird, Purple Gallinule and American Coot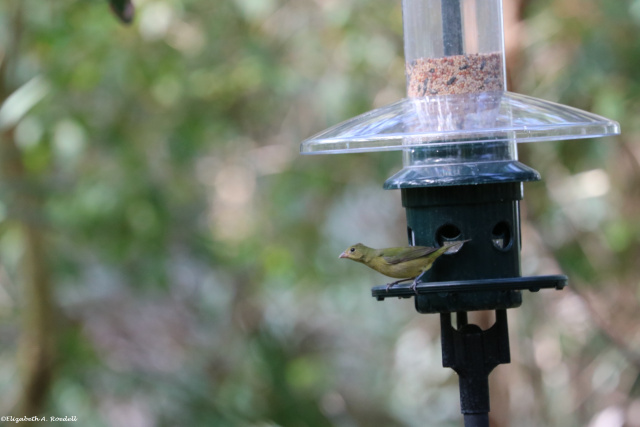 Female and male Painted Buntings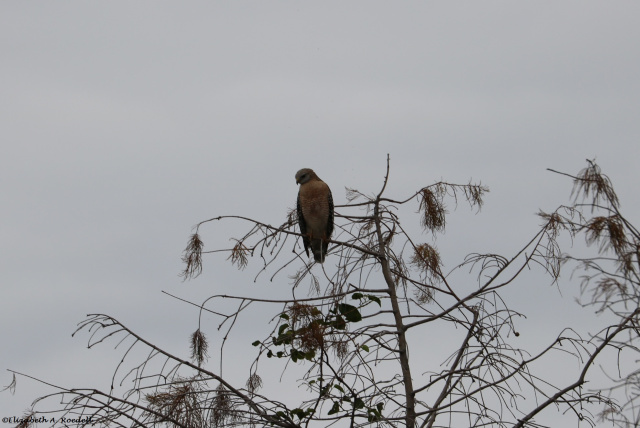 Pied-billed Grebe, Mottled Duck (Florida), Black-crowned Night Heron and Cooper's Hawk
Spanish River Park in Boca Raton, Palm Beach County, runs along the Intracoastal Waterway. The nature trails lined with banyan trees lead through the sand dunes to a beach where we lifted our binoculars to see Surf Scoters foraging off shore. At least 30 Sanderlings chased the edges of receding waves then dashed back when the waves smashed the shore. This tiny shore bird breeds in the high Artic and makes stops along the way as it migrates thousands of miles to its breeding grounds from somewhere in South America.
Sanderling (Small shorebird in front).
Lesser Black-backed Gulls
As we were driving along South Pine Island Road in Davie, Broward County, an Egyptian Goose flew overhead, a Life bird. A native of Africa these geese have established wild populations in Florida after escaping captivity.
My favorite bird for the day, and surely one of my favorites for the trip, is a year-round resident of Brian Piccolo Park (named after the American football player for the Chicago Bears who died at age 26 of cancer and the subject of the movie Brian's Song), in Cooper City, Broward County. Flagging tape roped off the burrowing location where one of a pair of Florida Burrowing Owls perched on the ground next to their burrow. This pint-sized bird is one of the smallest owls in Florida, and a Life bird for me.
Burrowing Owl (Florida)
Although the Burrowing Owl continued as the main attraction, Eurasian Collard Doves, White Ibis, and Loggerhead Shrike, made an appearance.
Dinner that evening at Los Kausitas, an excellent Peruvian restaurant, gave us a chance to review the 83 bird species recorded that day.
We left our hotel in Hollywood early Thursday morning and drove across Alligator Alley to the West Coast, awestruck by the number of our avian friends lining the road as we drove.
Bunche Beach Preserve in Fort Myers, Lee County, is 718 acres of natural tidal wetlands located on San Carlos Bay. Though cool and overcast the water stood calm as high tide receded. There was a raft of Black Scoters in the distance as well as Black Bellied Plover, Piping Plover, Wilson's Plover, as many as 100 Western Sandpipers and a wide variety of shore birds and water fowl.
The J. N. Ding Darling National Wildlife Refuge, Lee County, on Sanibel Island, is a subtropical barrier island in the Gulf of Mexico, covering 6,400 acres. It is the perfect habitat for the over 100 Red Knots, 500 Western Willets and hundreds of Little Blue Heron and White Ibis that we saw there amidst other shore birds and water fowl, a daunting experience as we drove around the loop on this warm sunny afternoon.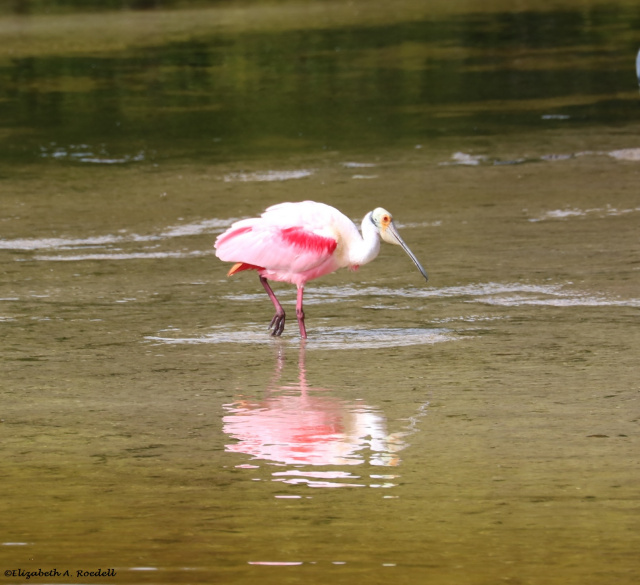 Little Blue Heron and Roseate Spoonbill
At Ackerman Park, Sarasota County, 600 Tree Swallows darted above us in the sky. Anhinga, Osprey, Cattle Egret, Limpkin and many more water fowl graced the waters.
The last stop of the day, Celery Fields, Sarasota County, a 400-acre site, serves a dual purpose as the County's primary storm water collect zone. Sarasota Audubon's Nature Center acted as our starting point, with beautiful gardens and a gazebo strategically positioned to observe the bird feeders. A boardwalk across the road created optimal observation of the open marshlands. Of the 246 species recorded there in winter, a number breed there; such as, Black-necked Stilt, King Rail, Least Bittern, Limpkin, Purple Gallinule, Barn Owl, Eastern Meadowlark and Least Tern.
Nanday Parakeet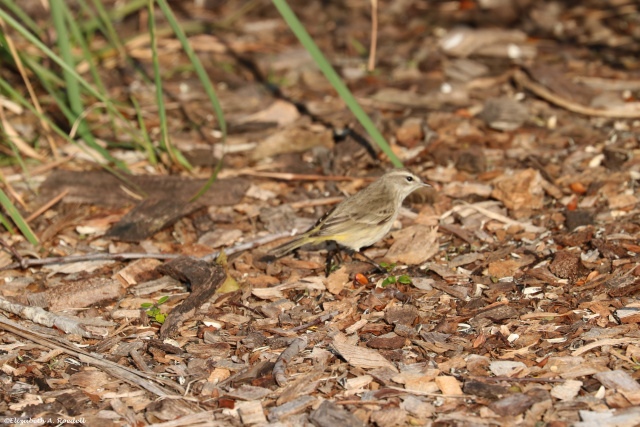 Palm Warbler (Western) and Bronzed Cowbird
Woody's River Roo Pub and Grill in Ellenton happened to be an ideal choice for a lovely warm evening to dine on the patio of the water-front restaurant accompanied by a live band.The Manatee River afforded us the opportunity to continue to spot birds as we ate dinner. A review of our sightings for the day disclosed that we recorded 81 bird species.
Friday we started the day early at Felts Audubon Preserve in Palmetto, Manatee County, and a 27-acre nature center where we focused on 29 species, including two Painted Buntings as we walked the trails.
At Sea Breeze Point Hot Spot, Manatee County, we sighted at least 205 Red-breasted Mergansers and 300 Laughing Gulls among a wide variety of shore birds and waterfowl.
Cockroach Bay Nature Preserve on the shores of Tampa Bay in Ruskin, Hillsborough County, is comprised of 500 acres of mangrove swamp, upland and coastal habits. The staggering number of wildlife exhibited there undoubtedly illuminated quite a bonanza, with 43 species of birds in all.
Sandhill Crane
Bound by two of six Historic Districts, Lake Morgan in Lakeland, Polk County, is teeming with wildlife and a photographer's delight.There were over 25 White Pelicans. The Cosvoroba Swan and Black Swan were Life birds, as well as three domestic birds - Graylag Goose, Domestic Goose sp. and Mallard x Mottled Duck (hybrid).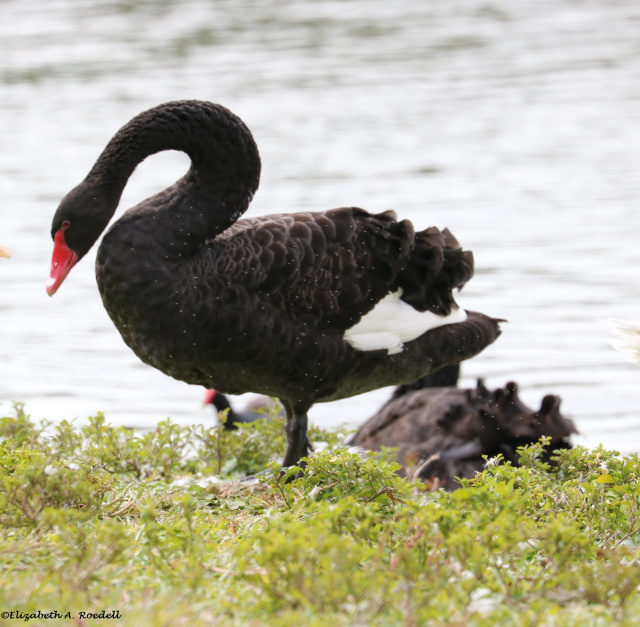 Coscoroba Swan and Black Swan
Wood Duck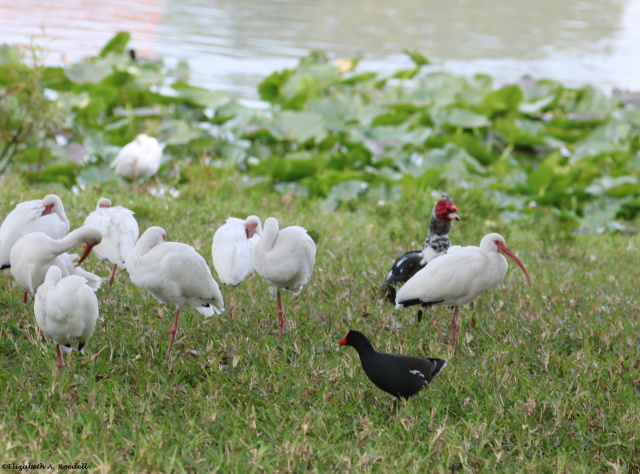 Mallard and Muscovy Duck (behind White Ibis on right).
The 48 square miles of Lake Apopka North Shore Recreation Area, Florida's fourth largest lake is in both Orange and Lake Counties. We entered the 20,000 acres of wetlands starting on the one-way Wildlife Drive at Lust Road, in Apopka, Orange County. The superabundance of wildlife blew my mind – 2500 Tree Swallows, 300 Common Gallinule, 120 Blue-winged Teal and three types of Red-tailed Hawks – Eastern, Florida species and Krider's intergrade. Following the Wildlife Drive along Laughlin Road there appeared to be no end to birds and other wildlife. Continuing on and entering Jones Avenue Basin Stormwater Park one could only marvel at the 2000 American Coot discovered there.
Red-shouldered Hawk and White-faced Ibis
By far one of our best days of the week the spectacular day yielded 100 bird species, and a fitting end to a wonderful week.
We clocked 775 miles travelling throughout Florida with a record total of 172 species of birds for the trip, 16 of which were Life birds for me.
It takes a talented trip leader to be flexible, given the challenge of weather and wind conditions, selecting the right place and the right time, to optimize Florida's diverse bird population. For sure, this was another memorable trip.
Great Blue Heron (Blue form) eating a fish lunch.
"Nature has introduced great variety into the landscape, but man has displayed a passion for simplifying it. Thus he undoes the built-in checks and balances by which nature holds the species within bounds"
- Rachel Carson (1907-1964)