March 25, 2014 @ 11:57 PM
Early morning exercise fits my schedule, alternating daily between a gym workout and a brisk outdoor walk. While my community has a lengthy tree-lined walking path that affords ample scenes of nature and at times a myriad of wildlife sightings, I welcome a change of venue.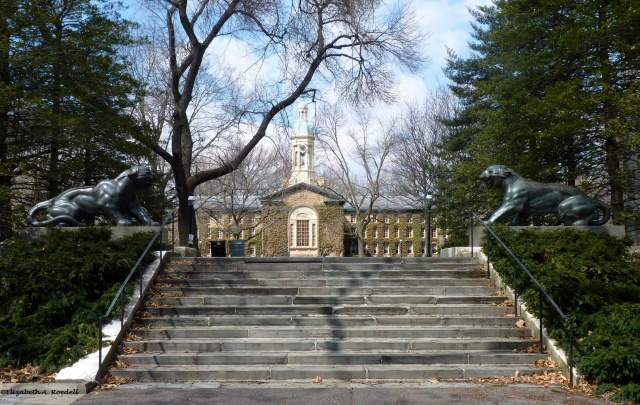 Pair of Tigers with Nassau Hall in background.
My favorite place to walk is the Princeton University campus, right in the heart of downtown Princeton. Founded in 1746, prior to the American Revolution, the main campus is situated on 500 acres, dotted with historic buildings of exquisite collegiate gothic architecture. Nassau Hall, the oldest building on campus, fell briefly to British soldiers during the Battle of Princeton, until reclaimed by George Washington during the American Revolution. Nassau Hall also became home to the Continental Congress in 1783, establishing Princeton as capital of the United States for four months. Elected president of Princeton University in 1902, Woodrow Wilson later went on to become the 28th President of the United States. Princeton is also affiliated with the Institute for Advanced Studies; and in 1933 Albert Einstein became a lifetime member. Princeton first admitted female undergraduates to the school in 1969; today they represent 48% of students. The campus is vibrant with life, as the youth at the University define Princeton. I am caught up in the aura, surrounded by an abundance of knowledge, as students bustle to class.
Prospect Gardens in spring is a burst of color to savor when all the flowers are in full bloom; and the Princeton University Chapel is comforting on a cold bleak day. I never tire of strolling among the 20th century sculptures scattered about the campus in a setting of natural beauty, and vary my walk so that it is a new experience every time I come face-to-face with a piece of sculpture. Leisurely I am able to study each piece of artwork and marvel at the creativeness of the artist.
Nassau Hall.
The first pair of tigers you come upon flank the steps of the front entrance to Nassau Hall. In repose, the symmetrical bronze tigers were designed by Alexander Phimister Proctor (1860-1950), an American, born in Canada, internationally recognized for his animal sculptures.
Oval With Points.
A Short distance from Nassau Hall stands Oval With Points. The 11-foot high bronze sculpture weighs 200 tons and resembles a donut. British sculptor Sir Henry Moore (1898-1986) designed the sculpture. The sculpture is one of many from the John B. Putnam Memorial collection on campus.
John Witherspoon.
Circling around, I stop to read the inscription on the plaque in front of the John Witherspoon statue. A Presbyterian minister of Scottish descent, John Witherspoon (1723-1794) was a signer of the United States Declaration of Independence and president of Princeton University.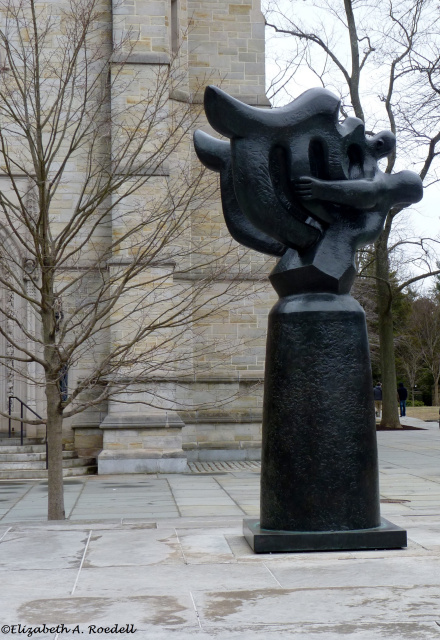 Song of the Vowels.
Directly across the plaza near the Chapel, the 10-foot high bronze Song of the Vowels sits molded on a pillar. Jacques Lipchitz (1891-1973), an American, born in Lithuania, obsessed with the harp, sculpted it.
White Sun.
Stepping inside Firestone Library, White Sun stands on edge, mounted on a pedestal in the lobby. Two feet tall and carved in white marble, Isamu Noguchi (1904-1988), an American-born artist, sculpted it in Italy.
Atmosphere and Enviornment X.
Outside the Library, the work of Louise Nevelson (1899-1988) is almost as tall as the treetops. An American, born in Czarist Russia, Louise Nevelson was nearly 70 years old when she designed the 20-foot high Atmosphere and Environment X in Cor-Ten steel. One of her black steel abstracts was displayed in the park across from my former office building at 80 Maiden Lane in New York City.
Cubi XIII.
Backtracking, I walk across the campus in search of more tigers. Cubi XIII blends in with the landscape and unexpectedly appears before you. It is one of a series of stainless steel sculptures by American-born artist David Smith (1906-1965). I'm fascinated by how the sculpture reflects the colors of nature.
Human Conditions.
On the side of Mc Cormack Hall I poise almost walking by Human Conditions by Rudolph Hoflehner (1916-1995), an Austrian artist. The artist, who worked in iron, did not coat the sculpture intending that it would rust with the elements adding to its beauty.
One of Two Bengal Tigers in Adams Mall.
Between Whig and Clio Halls, male and female Bengal tigers face one another on either side of the steps leading up to Adams Mall. The larger than life bronze sculptures, designed by Bruce Moore (1905-1980), appear ferocious and ready to sprint.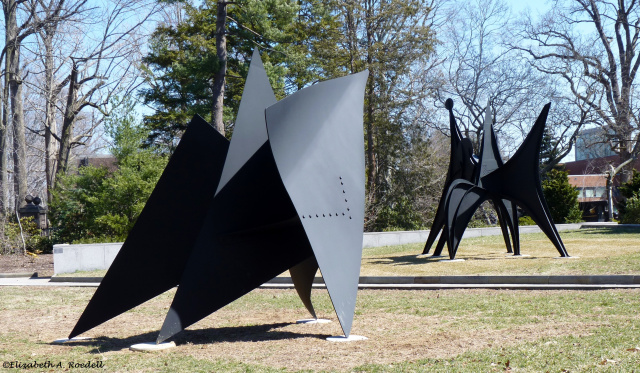 Man and The Kite that Never Flew.
I head back in the direction of the Art Museum hoping to see the Picasso sculpture outside, but to my dismay, it is gone. My disappointment soon fades when I realize what confronts me, slowly walking around the perimeter taking in every detail. In its place stands two giants, Man and The Kite that Never Flew, on loan from a private collection for five months. The two black steel abstract stabiles are the works of legendary Alexander Calder (1898-1976). Known for his mobiles, the American-born artist trained as an engineer at Stevens Institute of Technology in Hoboken, NJ.
I stop to rest in the quiet garden across from the art museum, wondering how the University keeps track of the sculptures so often moved around, before beginning my quest for the Picasso sculpture.
Moses.
Heading in the direction that my Google search indicated I stop at Prospect House to view Moses on the front lawn, by American artist Tony Smith (1912-1980). The parallel uprights of the 15-foot high steel abstract reminded the artist of Michelangelo's statue Moses, residing in the Roman Catholic Church of San Pietro in Vincoli (St. Peter's in Chains) in Rome, inspiring him when naming his sculpture.
Centaur.
I know the gardens behind Prospect House are in a dormant stage at this time of year, except for the evergreens, nevertheless I am intrigued by pipe-playing, modernistic sculpture in the fountain. Designed by American-born artist Dimitri Hadzli (1921-2006), Centaur, made of cast bronze, drew on his lifelong interest in mythology.
The Head of a Woman.
Moving down hill towards the far western section of the campus, I weave in and out of the dormitories of the Spelman building designed by noted architect I. M. Pei. Finally, The Head of a Woman, made of cast concrete, granite and quartzite, designed by Spanish artist Pablo Picasso (1881-1973), and executed by Norwegian artist Carl Nesjar from a 12-inch maquette, sits high on a knoll in the rear. This is the first time I have seen her in this perfect setting. Looking up at the 17-foot high sculpture, it casts an gigantesque impression.
Satisfied with my conquest, the final stretch of my sojourn is met with anticipation of more tigers ahead. Battling the wind on this blustering March day, I climb back uphill and traverse the campus.
Abraham and Issac: In Memory of May 4, 1970, Kent State University.
When you first see Abraham and Issac: In Memory of May 4, 1970, Kent State University, an 81-inch high cast bronze, there is no mistaking the poignant feelings expressed by American-born painter and sculptor, George Segal (1924-2000), in the contemporary version of Abraham and Issac theme he depicts in the sculpture. I met George Segal and his daughter at an art exhibit, and viewed a number of his exhibits while he was alive. He lived in the neighborhood, and one of his sculptures is featured at our local library. One of my favorite of this works is Breadline on display at the FDR Memorial in Washington, DC.
Construction in the Third and Fourth Dimension.
Crossing Washington Road and walking down to Jadwin Hall courtyard, I find an impressive 10-foot high bronze sculpture on a black granite pedestal. Antoine Pevsner, a French artist, born in Russia, designed Construction in the Third and Fourth Dimension.
Five Disks: One Empty.
The plaza next to Fine Hall tower presents another remarkable abstract stabile by Alexander Calder. Five Disks: One Empty is a 26-foot high sculpture made of black steel.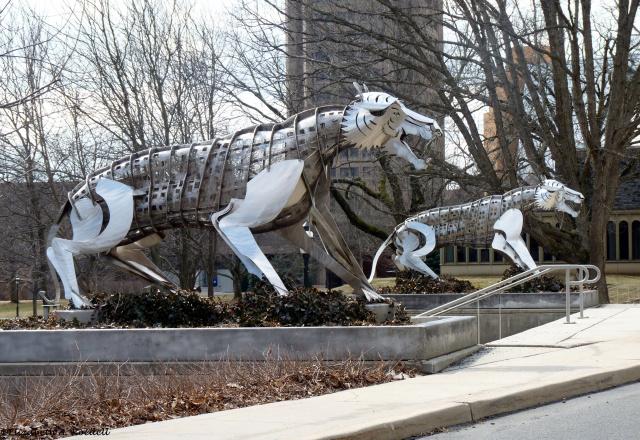 Topiary Tigers.
Taking a short cut along the path around Princeton Stadium, I make my way to the main entrance, the habitat of the Topiary Tigers. American-born medal sculpture artist, Ruffin Mendenhall Hobbs (1952-2000) designed these massive stainless steel specimens. The sculptor intended Ivy to grow through their hollow mesh bodies. However, this seems too tame for these tigers, as they stand guard, ready to battle team rivals, defending their Princeton turf.
Cold and hungry, yet still feeling exhilarated from my excursion, I slowly make my way back to the car. I feel fortunate that I have such rich culture and history just a short drive away.
"Every block of stone has a statue inside it and it is the task of the sculptor to discover it." – MICHANGELO (1475-1564)