December 27, 2018 @ 3:17 PM
April 2018
Arriving in South Texas early, I stopped in San Antonio for a few days of sightseeing and Tex-Mex food, before my wildlife adventure in the lower Rio Grande Valley. This narrative is strictly devoted to birds, however difficult it was to select captivating photos out of over 900 captured digitally. My plan to focus on Life birds seen on the tour took a detour; there were too many favorites I couldn't resist including. In another post the subject will center on all the unusual wildlife from the trip, many of which I had never seen before.
The small group, Roberta and her husband Bill, picked me up at the hotel I was staying at in Mc Allen Sunday morning and we hit the ground running. Texas has over 600 species of birds, and is second only to California, so we had a lot of territory to cover. Having said that, Alex, the Trip Leader, informed me that first up we were on a mission heading north to Corpus Christi (off tour) to see a rare bird for Texas and a United States Life bird for the group - the Northern Jacana. I had just seen this magnificent bird in Belize in December.
As we drove north, I saw my first Life bird of the trip - Swainson's Hawk - though not the last of this magnificent raptor we would see during the week. The Swainson's Hawk, not seen in the Northeast, soared high above as it traveled from its wintering grounds in Argentina, where it feasts on grasshoppers, heading north to the prairies of Alberta and British Columbia, Canada.
We stopped briefly at the Falfurrias Rest Area where Hooded Oriole, Eastern Bluebird, Couch's Kingbird and House Sparrow brightened up the area with their sparkling yellow and blue plumage.
Arriving at our destination along Oslo Creek - South Texas Botanical Garden, Corpus Christi, in Nueces County - we were not disappointed. The Northern Jacana, as reported, hung around long enough for us to shoot photos as we followed him foraging around Gator Lake. A year-round resident of Mexico and Central America, this shorebird is rarely seen north of the boarder. The gardens, wetlands and Gator Lake were filled with shore birds, waterfowl and a wide variety of land birds, as well as, dragonflies, butterflies and lizards. I was happy to see the Black-bellied Whistling Duck outside of Belize, a year-round resident of South Texas and as far south as South America. An annual sighting in New Jersey as a rare bird since 2009, I finally got to see this colorful duck a half hour from my home in Central New Jersey in July, 2018.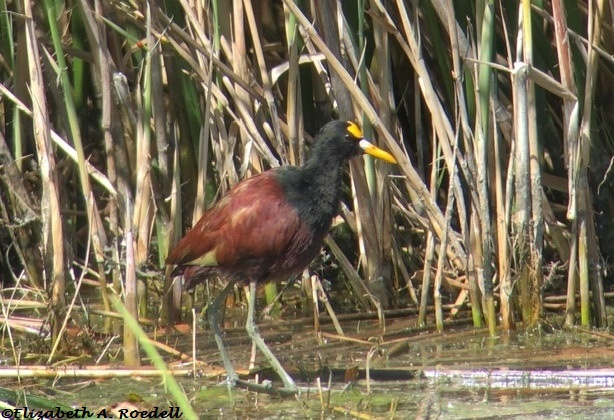 Northern Jacana.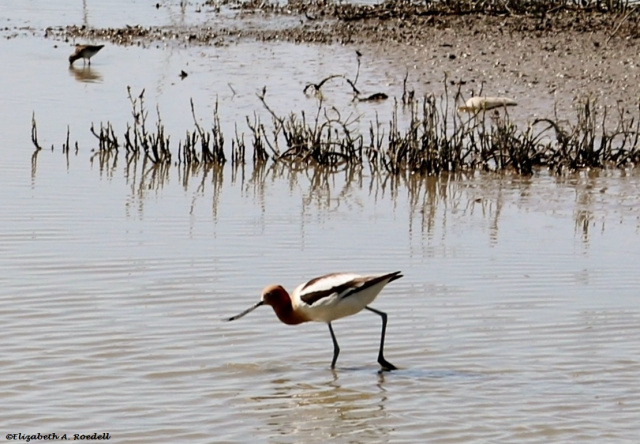 Sora. American Avocet.
Female Mottled Duck with Three Chicks. Black-necked Stilt .
Lessor Yellowlegs.
Driving back to Mc Allen we encountered an assortment of roadside birds before our arrival at the Dove Avenue and 10th Street roost site, that could not have been better timed, to see 225 Green Parakeets perched on telephone wires all around us preening and preparing to call it a night.
Green Parakeets.
Early Monday morning we headed south to Santa Ana NWR, in Alamo, Hidalgo County, an over 2000-acre subtropical thorn forest, along the banks of the lower Rio Grand River, on the Texas/Mexico border. On our walk to the tree tower, I met up with four Life birds – White-tipped Dove, Brown-crested Flycatcher, Black-crested Titmouse and a Verdin. Following the Pintail Lakes Trail to the lake, we came across two more Life birds for me - Northern Beardless-tyrannulet and Louisiana Waterthrush.
Couch's Kingbird.
A brief stop at Donna Reservoir added another bird to my Life list – Western Kingbird. Back on the road a short distance away I was surprised by another Life bird – Loggerhead Shrike.
In the afternoon, we visited Estero Llano Grande State Park in Weslaco, a 230-acre refuge with varied landscape including woodlands and Tamaulipas Thorn Forest. From the wildlife viewing deck overlooking a shallow lake shore birds, waterfowl, egrets, herons, a Roseate Spoonbill, and more, obviously had found a sufficient source of food.
Buff-bellied Hummingbird.
Snowy Egret.
In a designated area of the park, clearly marked signs cautioned us to be quiet as we neared the site where Pauraques roost during the day. We searched in vain yet failed to see any, so apparently they were sound asleep. This night bird is extremely loud, I found out, as it hunted for insects outside my window in Crooked Tree, Belize.
Soon after leaving the park, we came across a Monk Parakeet's nest on a telephone pole on the highway.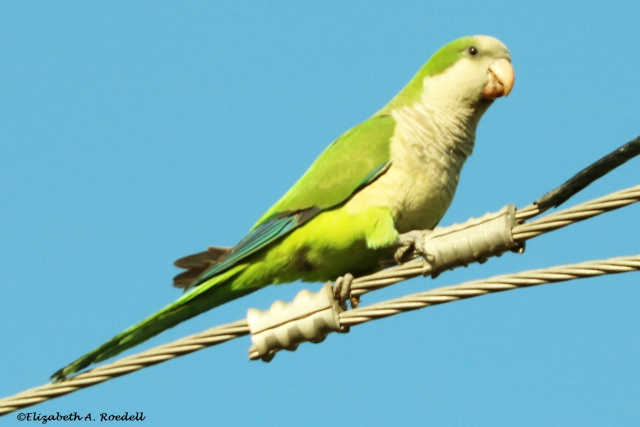 Monk Parakeet.
Our final stop of the day, we scanned McAllen International Airport looking for a Curved-billed Thrasher. An adult pair took turns, flying back and forth, feeding their young in a nest tucked away in desert shrub.
Curve-billed Thrasher.
On Tuesday we headed to South Padre Island in Cameron County at the tip of the world's longest barrier island off the coast of Texas, a mecca for neotropical birds making the arduous cross-Gulf migration from Southern Mexico and northern South America. Thousands of birds arrive here, after their 600-mile water crossing, half starved, to build fat reserves that will tide them over the remainder of their migration to northern United States and Canada where they nest. Our first stop was The Valley Land Fund wooded lots, a conservation easement sanctuary for migratory land birds. It was a bit overwhelming, to say the least, as migrant songbirds darted everywhere your eyes could see. I never encountered so many Indigo Buntings and Painted Buntings concentrated in one location.
Female Hooded Warbler.
Swainson's Thrush.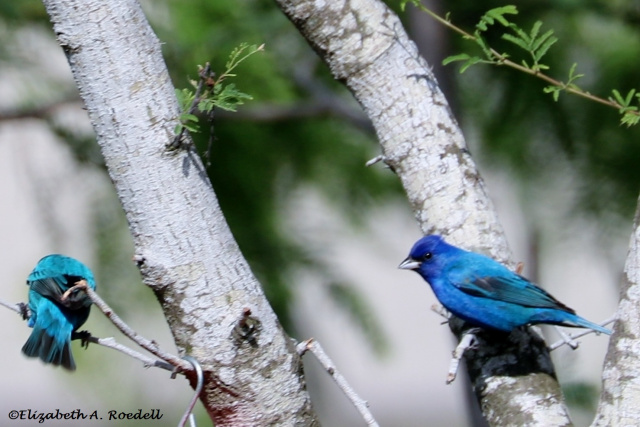 Indigo Bunting.
Painted Bunting.
Yellow-throated Vireo.
We continued on to the Convention Center with a majestic view of Laguna Madre Bay. This birding hotspot uncovered an abundance of migrant birds, a photographer's paradise.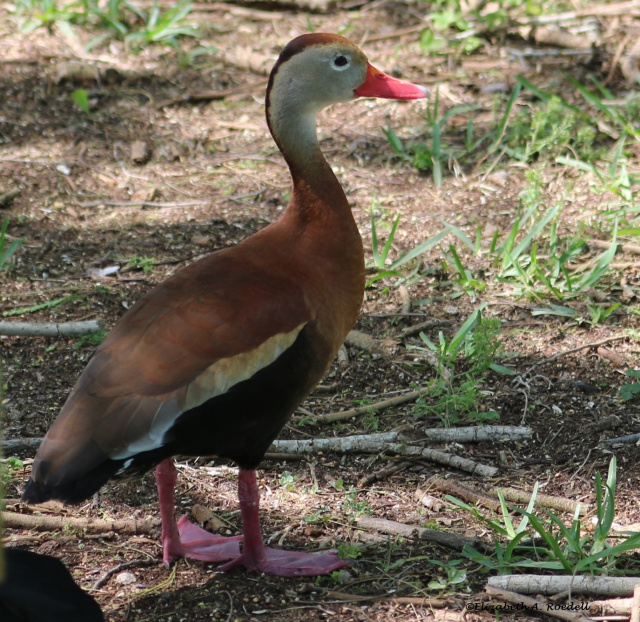 Yellow-headed Blackbird.
Black-bellied Whistling Duck.
Yellow Warbler.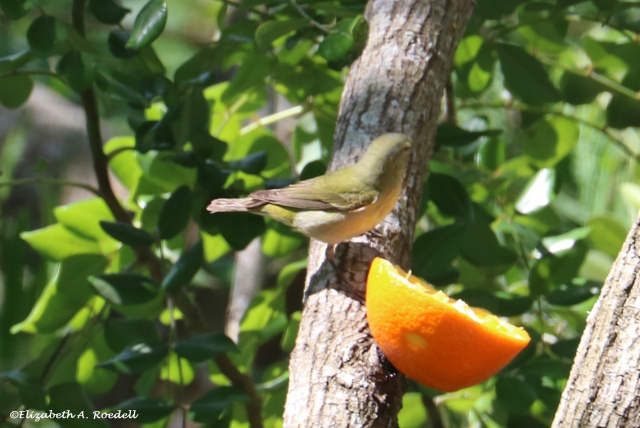 Female Orchard Oriole.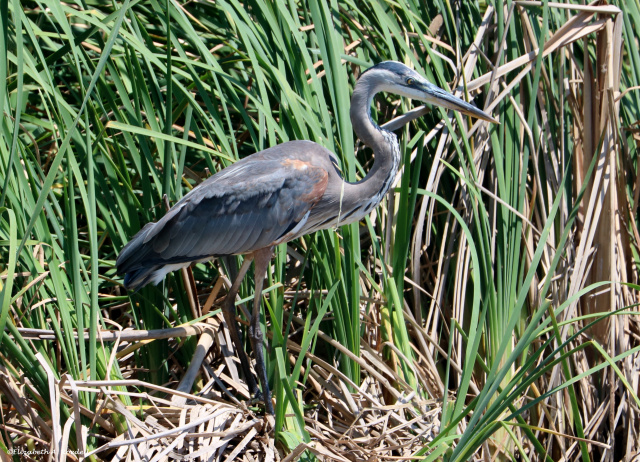 Pie-billed Grebe.
Great Blue Heron (Blue Form).
The Laguna Madre Bay mudflats north of the Convention Center attracted plovers, Ruddy Turnstones, Sanderlings, Dunlin and another Life bird – Reddish Egret. We witnessed a pair of Royal Terns displaying signs of courtship.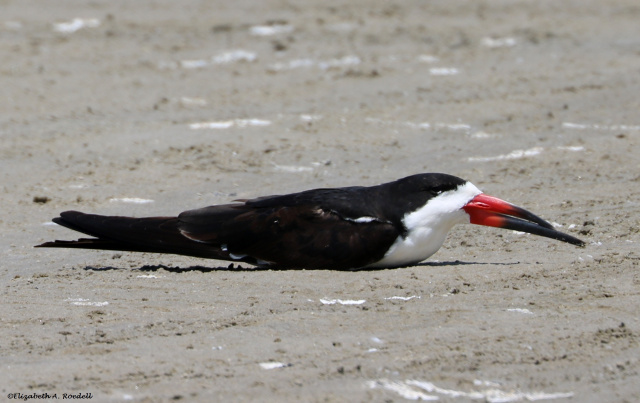 .
Sandwich Tern.
Black Skimmer.
Royal Terns.
Stopping at the Bahia Grande, a shipping channel in Brownsville, we combed the waters through our binoculars to find that many more shore birds discovered this feeding location.
Tri-colored Heron.
Driving around Brownsville, we stopped at Old Port Isabel Road, where Whimbrel, various hawks, Chihuahuan Raven and Horned Lark flew into view.
Long-billed Curlew.
On the lookout around Boca Chica and along Boca Chica Boulevard, Osprey, Crested Caracara, Cattle Egret could be seen before the sun set. We ended the day in Oliveira Park hoping to see the parrots tuck in for the night. It was late and our view was limited but we did catch sight of Red-crowned and White-fronted Parrots.
Our first stop on Wednesday, Anzalduas Park, was located on the shore of the Rio Grande River. Across the river in Mexico we could see with the naked eye a recreation area decorated in a blue and white theme, with tall palm trees in the background billowing in the wind. As we drove around the park, a Lark Sparrow brought our attention back to the United States side of the river.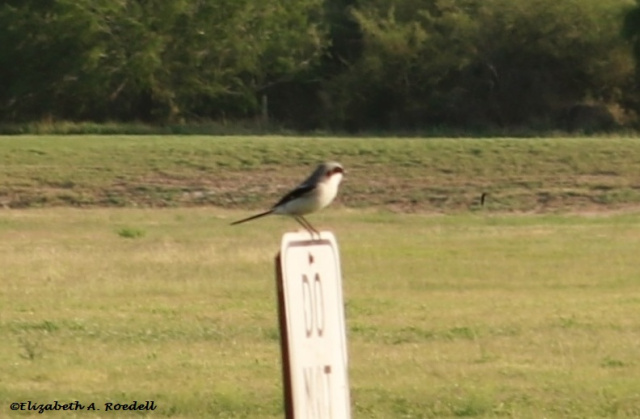 Loggerhead Shrike.
When we arrived at Bentsen-Rio Grande Valley State Park, which serves as the headquarters for the World Birding Center, we took a tram to the Hawkwatch Tower. The scenic view unfolded a lofty Mexican mountain range, not too far in the distance. For two hours we were mesmerized by kettles of Mississippi Kites and Broad-winged Hawks high overhead. It was incredible to see flocks of migrating birds flying overhead bound for their northern breeding grounds. One bird is breathtaking, a flock is absolutely spectacular.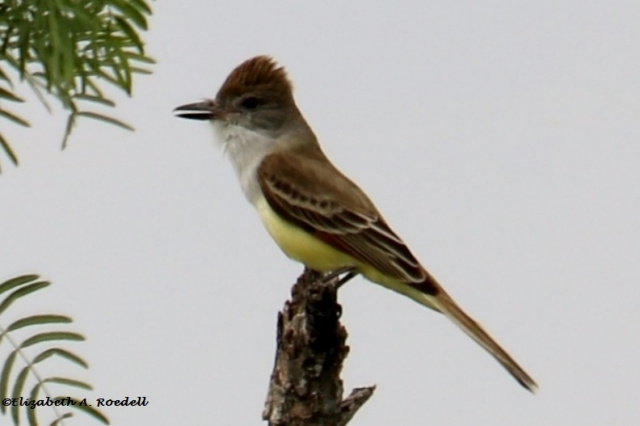 Altamira Oriole.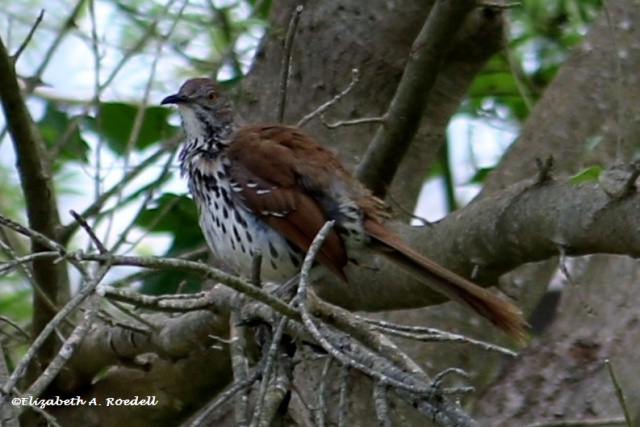 Brown-crested Flycatcher.
Long-billed Thrasher.
Edinburg Scenic Wetlands, another World Birding Center, happened to be next on the agenda as we continued scouting for our avian friends. Far more wildlife awaited us as we trekked out to the lake on a quest to find kingfishers, who initially eluded us, then latter spotting two Green Kingfishers. I was delighted to photograph the Great Kiskadee, a bird I fell in love with in Belize.
Great Kiskadee.
Scissor-tailed Flycatcher.
Driving down the road in La Sal del Rey four Greater Roadrunners dallied across the road, one of my target birds, although I had seen them many times in Chula Vista, California.
Greater Roadrunner.
Another one of my target birds, Pyrrhuloxia, posed for a photo as we walked along the trail in La Sal Del Rey on our way to see a new plover for me. As reported the tiny, pale male and female Snowy Plovers squatted on the salt flats.
Ash-throated Flycatcher.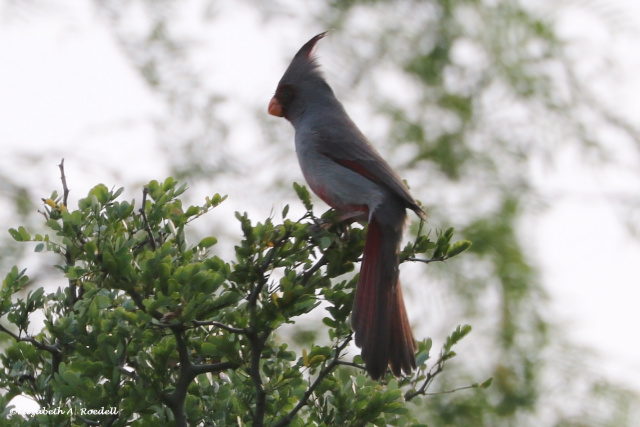 Pyrrhuloxia.
We were on our way to Palo Alto Battlefield National Historic Park in Cameron County on Thursday to see the Botteri's Sparrow, with success. A Northern Bobwhite, Sedge Wren, Cassin's Sparrow and an Aplomado Falcon in flight, were also added to the list.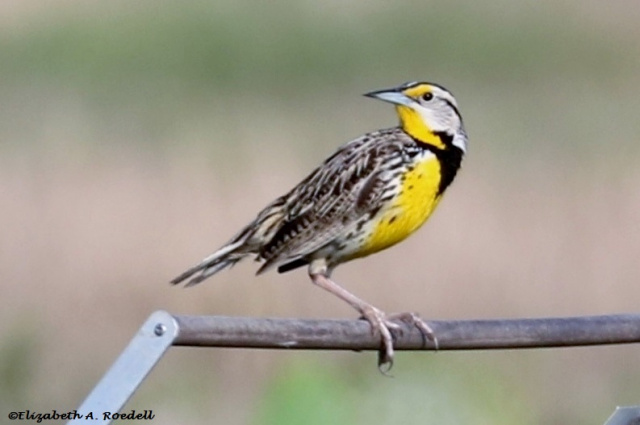 Eastern Meadowlark.
Hooded Oriole.
We made a second trip to South Padre Island hoping for an overnight fall-out of neotropical migrant birds, still it was difficult to surpass our superlative first experience on Tuesday.
Immature White Ibis.
The Brownsville Landfill was quite a happening. After checking in, we were given orange vests so as to be visible to the garbage truck drivers. Hundreds of Laughing Gulls, Ring-billed Gulls, Herring Gulls were circling all around us scavenging for food. Lingering for 1 1/2 hours, we departed without seeing our target bird, the rare Tamaulipas Crow, common in Northeast Mexico and usually found in rubbish dumps.
Bill, Roberta and Alex - Brownsville Landfill.
We had better luck at Frontera Audubon Center, in the heart of the City of Weslaco, where we observed Plain Chachalaca, Groove-billed Ani and Black-Crested Titmouse, at home in their native habitats of the Center's Tamalipan Thornscrub Forest, wetlands and ponds.
White-winged Dove with an Inca Dove in the lower right corner.
Green Jay.
At the Progresso Sod Farm I caught another Life bird - Upland Sandpiper - found in his typical habitat of short grass. The patterned brown bird, with large eyes and a yellow bill with a black tip, travels from Paraguay and northern Argentina to breed in northern United States and Canada.
Birds don't always cooperate when you want to take their photo, but back at Donna Reservoir once again a White-tailed Kite, perched on a telephone wire, gave us a nod.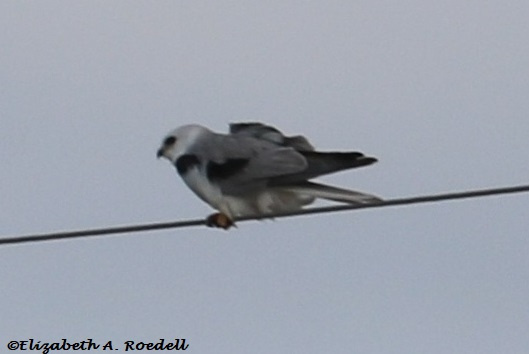 White-tailed Kite.
While the day was filled with new exciting birds, our last stop of the day, back at Bentsen-Rio Grande Valley State Park, was by far the most thrilling. Two Elf Owls, emerging from a tree cavity, perched on a telephone wire anticipating the hunt for their next meal.
Elf Owl.
We got an early morning start on our last day destined for Starr County, stopping for breakfast enroute on our drive north. Although, Salineno Wildlife Preserve was closed for the season when we arrived, we walked up along the Rio Grande River in pursuit of target birds we had not seen during the week. Border patrol roamed the area yet moved on after eyeing binoculars around our necks.
At Starr County Park, the camera focused on a Cactus Wren who rarely strays from desert scrub, thus a Year-Round resident of a few southern U.S. states and Mexico with desired habitat.
Cactus Wren.
Continuing to follow the Rio Grande River north into Zapata County, we came across a Crested Caracara sitting on top of a telephone pole, just waiting for us to take his photo. This large raptor, with a red face, who resides south of the boarder and into northern South America, feeds on lizards and snakes.
Crested Caracara.
We travelled as far north as San Ygnacio Bird Sanctuary on the Rio Grande River, a stone's throw from Mexico. It was an oasis for many butterfly species flittering among the colorful flowers. A pair of Audubon Oriole's seen carrying nesting material from the United States into Mexico, and a Black-chinned Hummingbird added two more birds to my Life list.
Heading south on our way back to the hotel after a long day we stopped again at Starr County Park checking for new arrivals. A brilliant Vermilion Flycatcher, seen perched on almost every fence post in Crooked Tree, Belize, hunting for insects, allowed me once again to take his photo.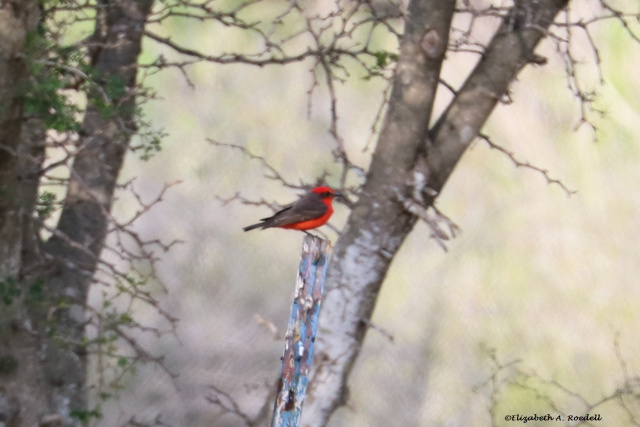 Vermilion Flycatcher.
The combination of seeing so many resident birds indigenous to Texas, neotropical migrants stopping over to refuel before continuing on to their northern breeding grounds, recognizing birds I had just seen in Belize, as well as other familiar Northeastern birds made this trip very special. We ended the Rio Grande Valley tour with a total of 213 bird species, and 76 Life birds for me, many indigenous to South Texas. Not bad for a Newbe birder.
"The more clearly we can focus our attention on the wonders and realities of the universe about us, the less taste we shall have for destruction" - Rachel Carson (1907-1964)