July 7, 2014 @ 5:39 PM
Phlox.
"The sun does not shine for a few trees and flowers, but for the wide world's joy."
- Henry Ward Beecher (1813-1887)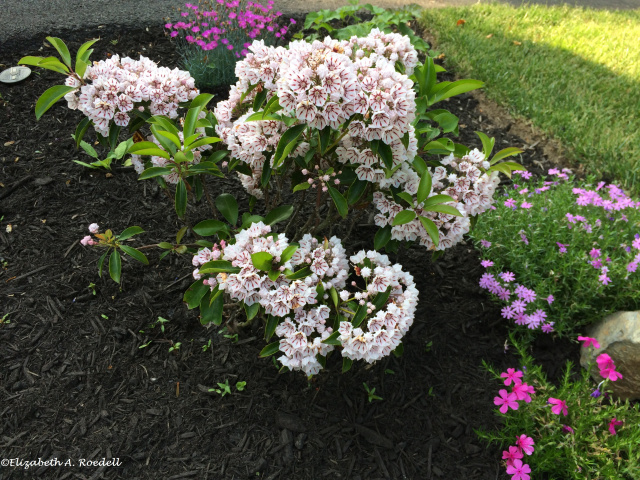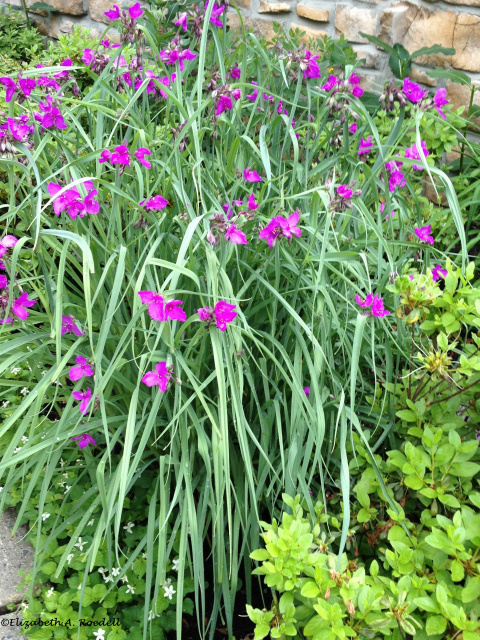 Astilbe, Mountain Laurel and Spiderwort.
The longest day of year is behind us. Summer solstice, when earth's Northern Hemisphere tilts on its axis and faces the sun directly, signals the start of summer. While I'm more a winter person than a summer person, I love what summer offers - flowers, song birds, hummingbirds, butterflies, wildlife, just to name a few of my favorite things.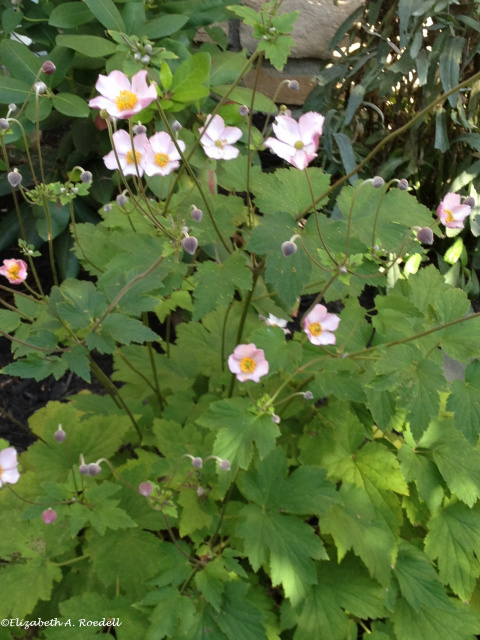 Anemone and Monarda.
Starting with the first warm day, the Butterfly Garden did not disappoint. Perennials that wintered-over transformed the drab garden into a burst of color. Mostly native plants were selected for the garden design, which generally thrive in harsh conditions, so only minimal maintenance is required.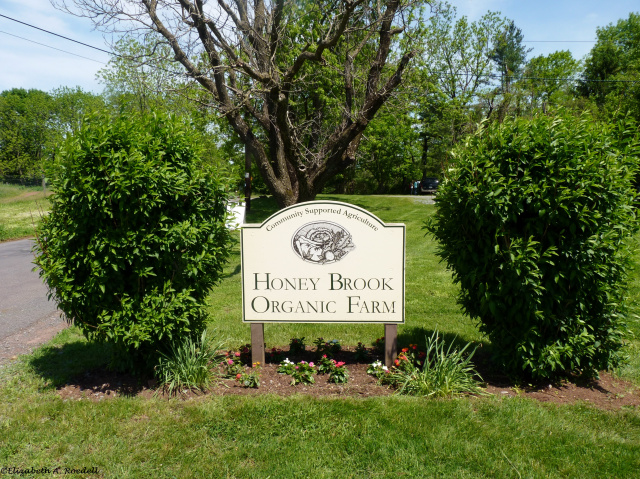 Honey Brook Organic Farm Entrance.
The long winter wait over, coinciding with my empty freezer, I welcome stocking up on seasonal organic fruits and vegetables from the CSA (Community Supported Agriculture) where I am a member for the second year in a row. The farm has become another one of my favorite things. Honey Brook Organic Farm in Pennington is one of the oldest operating organic farms in New Jersey.
Sourland Mountains in the Distance.
The farm is located at the foot of the Sourland Mountains, the largest contiguous forest between New York City and Philadelphia. Comprised mostly of deciduous trees, the Sourlands are home to several rare and threatened plants and animals, as well as serving as a stopover for birds during the annual migration.
Stony Brook-Millstone Watershed Preserve.
Honey Brook Organic Farm is contained within, and represents a small section of, Stony Brook-Millstone Watershed Preserve. The Watershed drains into the Millstone River; from there it flows into the Raritan River, which then empties into the Raritan Bay near Sandy Hook, traveling almost across the entire width of the State.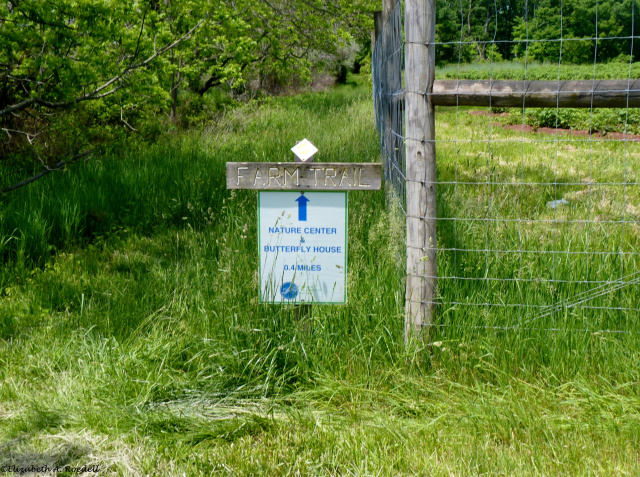 Watershed Hiking Trail.
The Watershed Reserve's ten hiking trails, with its diverse array of animals and plants, cross meadows, forests and winds around Wargo Pond, in a natural setting.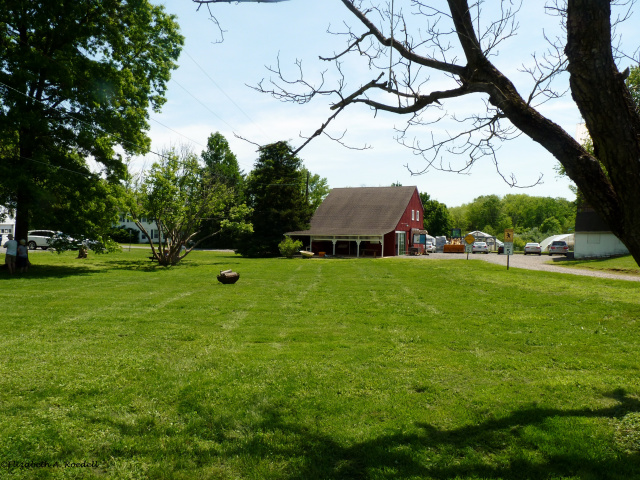 Honey Brook Organic Farm Pick up.
On Mondays when I pick up my produce at the farm I enjoy spending time there absorbed in the surroundings that awaken all my senses - the smell of fresh tilled earth, the feel of a gentle wind blowing fresh air, listening to the bird calls, watching butterflies fluttering among the flowers sipping nectar, and sampling berries in the field.
Herb Field.
I never miss an opportunity to pick fresh herbs and whatever else is available that day in the field, regardless of the weather. This simple task, while attuned to nature, has the effect of altering my mind to a meditative state, taking me far away from life's drama.
Farm Equipment.
Driving home toting the farm's bounty gives me a certain amount of personal satisfaction knowing the snap peas or blackberries I harvested from the field that day will grace my dinner table in a few short hours.
Farm's Mini Share Bounty.
A unique feature of Honey Brook Organic Farm is that it offers Box Shares, as well as farm pick-up memberships, with pick-up locations across New Jersey, as well as parts of Pennsylvania, making organic produce available in both urban areas and remote parts of the State. As an element of the farm's Community Outreach program, Sherry Dudas, Farm Manager, lectures on eating healthy in colleges, universities and at church socials.
Fermentation on Wheels.
There are always lots of happenings at Honey Brook Organic Farm. An outdoor Fermentation Workshop and Starter Culture Swap at the farm was not only extremely educational, but provided the opportunity to meet some of the other share members. The workshop was conducted by Tara Whitsitt of Fermentation on Wheels. We toured and explored her school bus, converted into a creative kitchen and workshop space. The fun part was sampling the different combinations of vegetables and herbs she concocted. I was surprised at how easy it is to ferment - just add sea salt and purified water to any vegetable. Voilá!
Workshop in Progress.
Fermentation on Wheels is a community from Eugene, Oregon, touring the United States to provide food education and teach fermenting. One of the things I learned is that fermented foods are only found in the refrigerated section of the supermarket, not on the shelves. Coincidentally, I recently read that fermented food is a natural probiotic and boosts the immune system.

Mushrooms.
At the foot of the tree I was sitting under, shaded from the sun, a cluster of artistically-sculptured mushroom specimens caught my eye, a product of all the rain we had this spring. Amazing how my mind frames a subject and manages to find something artistic about it.
Yellow Bee.
Ken Walters, the owner of Yellow Bee displayed his bees at the farm one weekend. Walters Apiaries are located in five local towns in the surrounding area - Princeton, Pennington, Lawrenceville, Ewing and Robbinsville. In addition to a variety of honey combinations to choose from, there was a selection of other products for sale, like lavender soap which I purchased. What a treat to be able to buy delicious raw honey direct from a local Apiary. Yellow Bee honey is also sold at Whole Earth Center where I shop.
Carolina Wren.
What would the world be like without environmentalists; local organic farmers and bee keepers; and earth-friendly gardeners. It's been over fifty years since Rachel Carson wrote "Silent Spring". It seems as though many have not heeded her word. There are far more pesticides today than ever before, destroying everything in its path. With careless disregard for the environment, more and more wildlife are becoming extinct. It's disheartening that future generations of children will view wildlife, which we have come to love, only in pictures. Pause - Summer is for all to cherish!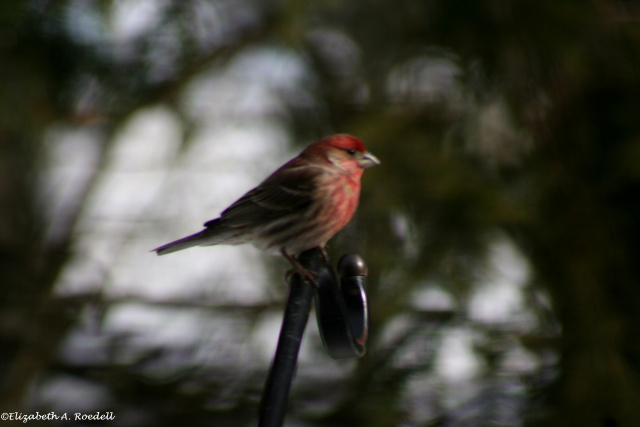 Male House Finch.